All We Can Save
All We Can Save: Leading on Climate with Truth, Courage, and Solutions

Agents & Architects Speakers Series: Dr. Katharine Wilkinson
Dr. Katharine Wilkinson | February 4, 2021 | 7 p.m. | Register
"My heart is moved by all I cannot save," poet Adrienne Rich writes. Yours may be too — and by all that we, together, still can. In this keynote, Dr. Katharine Wilkinson shares vital insights from the bestselling anthology All We Can Save, which she co-edited with Dr. Ayana Elizabeth Johnson. As the mighty chorus in this collection shows, there is a renaissance blooming in the climate movement: leadership that is more characteristically feminine and more faithfully feminist. Summoning truth, courage, and solutions, we may turn away from the brink and toward a just and livable future for everyone.
Free book to the first 200 registrants
Register for the event to receive a confirmation and follow up email including information on how to order your free copy of the book.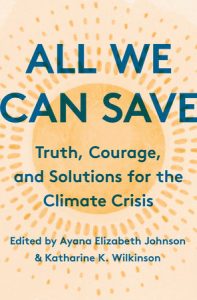 Dial-In Information
Register to receive details
Thursday, February 4 at 7:00pm
Virtual Event